Professional Pool Table Moves in Westerville
Our pool table mechanics here Westerville SOLO® Pool Table Movers have plenty of experience carrying out pool table moves in the area from start to finish. We have built a solid reputation based on our customers' satisfaction.
Pool table moves with our nationally backed company are easier than ever, accompanied by a guarantee of our service. Give us a call for more information!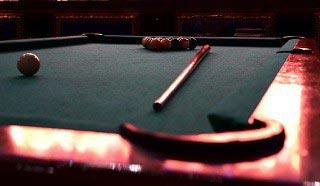 Our team of pool table installers SOLO® has been servicing Westerville and the surrounding areas for years.
We basically uninstall your pool table and safely prepare it to be moved. Taking the slates from the frame and getting the table into a bunch of smaller pieces so they can be easily set up at the new location.
Once at the new location, we build your table from the ground up, putting it together in a piece-by-piece manner. It is important to realize that this is the proper way to assemble any furniture-style table. This is the way pool tables are built in the factory and this ensures a smooth pool table setup and accurate level.
Our Pool Table Moves Workmanship is Warranted by the ABIA
Pool tables are exquisite pieces of furniture that must always be serviced by professionals. For if not done this way the risk of damage to the table, property, and even personal injury is highly likely.
For this reason, we offer an exclusive guarantee from a national organization. This organization is the American Billiard Installers Association, which is the only association currently working on raising up the service standards in the billiard service industry.
Not only is the workmanship we provide covered in writing by a guarantee but also the materials we provide for the service are covered under the previously mentioned document.
Complete Pool Table Moves and other Billiard Table Services We Offer
Westerville Pool Table Movers SOLO® offers services for most types of pool tables. These billiard table services are listed below.
Moving from one home to another
Moving from a home to a storage garage or vice versa
Moving from home to business and vice versa
Professional pool table disassembly
Pool table setup with accurate leveling
Pool table refelting using a new cloth or the existing cloth if in good condition
The process of moving and installing a pool table can be a very dangerous process on your own. The reason is that the heavy pieces increase the risk of damaging your table or property. Even worse you can end up being injured.
A professional certainly will make that risk as small as it can be, by taking appropriate measures to ensure safe and satisfactory pool table moves.
Expert Pool Table Repair in Westerville
We use the appropriate tools and techniques to provide a high-quality and efficient pool table move. The idea is to disassemble it with ease, so reinstallations can be easy and precise. The last thing you want is to damage your pool table in the process. That's what pros are for.
Although we guarantee the workmanship and materials we provide, we cannot say the same about other companies.
That is to say, we want you to be aware that if you purchased a used pool table there may be issues with this table that may need immediate repair. If this happens to be your case, do not worry, our technicians are qualified to work with all types of pool table repair.
Keep in mind that the pool table repairs could be something that we could fix on the spot or it could be a major pool table repair. In any case, we will ask you questions regarding the pool table specifics in order to figure out your quote and provide availability.
Pricing Your Pool Table Repair or Any Other Pool Table Service
To determine the price of moving the pool table we must take into account the dimensions of the table, the type, and the model of the table, as some are easier to disassemble and reassemble than others, and any other circumstances and situations of the move.
For instance, when moving a pool table we need to know your game room dimensions and the playing surface area of the pool table to give you an estimation quote. With this in mind, we put together for you a billiard table dimensions and pool table room sizes guide to help you figure out which is the right size of a pool table for you.
We may charge extra for stairs when moving a 3-piece slate pool table. In some instances, we won't move 1pc. slate tables, but that's depending on the situation of the move.
Do not hesitate to give us a call to get your free quote now!